Let me start by saying that I've been making money online for a couple of years now and pretty darn good money at that. All the while I held onto my full time job during the day and worked on the Internet at night. It all started with eBay a couple years ago. I would sell small little things around the house that I didn't use anymore or never used or whatever the case was.  After I made a few bucks doing that I actually ordered inventory and started selling my own inventory as well and made even more money. Over the course of those couple years I also experimented with building more than a few websites but had never really been successful with them. Recently I started Modern Day Peasants, the website you are currently reading this on. Modern Day Peasants has taken off on a league of it's own and is rapidly becoming hugely successful. We now have over 5,000 visitors a month and it's climbing fast. I say this not to brag but to re-inforce the idea of actually making good money from home. That leads me to the point of the title of this article.
I may dissappoint a few of you in telling you this, but the main point of this article is that there are no secrets to making money online. You either set your mind to do it or you don't. A little bit later in this article I'm going to tell you the #1 way to start your journey making good money online. Heck, you never know you might even get rich. Some people are happy leaving their home and their families early in the morning and fighting traffic to go to a 9 to 5 job. If that's what makes you happy then so be it. However, I'm willing to bet if you have taken the time to actually read this article then you are not one of those people who are happy getting up and doing that 9 to 5 bit.
I don't want to ruin your day completely. There are certainly little tricks that you do learn along the way as far as increasing traffic to your website, having good content, making sure you have alternative text in your pictures for the search engines to see and so forth. It requires your attention and devotion. I think the most important aspect next to those two things is that you have to really like or even love what you're doing to be successful at it. Again, there are no secrets. There is only knowledge. The trick is how do you get that knowledge!
With that being said, let me now tell you the #1 way for you to start making money online. It has taken me approximately 2 and half years to get to my current online status. If you have little or no website building and e-commerce experience and you're truly serious about learning to make a living on the Internet then you need to check out a little company called SBI! That's short for Site Build It! They are by far, hands down…way out in front of all the competition and they have been around for years. Their program is so vast and so easy to follow that you can learn what has taken me years to learn in weeks if not days. They can be the difference of your website doing just ok or your website doing very well. I have already taken the time to fully understand the scope and the reach of this company and the capabilities of what they have to offer and I am now part of their program. This is not some fly by night website. Site Build It is not just a company either. They are an enigma. A true winning idea. An all in one package!
Sometimes I actually feel stupid. If I had come across SBI a couple years ago instead of now I would probably already own homes in California, Hawaii and Florida. I'm going to give you a link to their site below. Please take your time reading about the company and what they stand for. Do your research. Read the true testimonials from other clients of theirs who have learned what I have learned and have put that information to work for them! Don't just take my word for it. There are multiple pages of information starting from the very first page. Learn now!
Procrastination is opportunity's assassin.  ~Victor Kiam
————————————————————————————————————————————————-
Get What You Want From Site Build It!
It depends on who you are, from raw "newbie" to marketing expert.
It depends on what you want out of business and life…
Freedom and self-reliance?
Increased revenues from an existing business.
Growth and independence?
Living life with passion.
Recognition and support?
Community and belonging.
The right skills and control?
Additional family income & time.
No matter who you are or what you want, you can Site Build It!.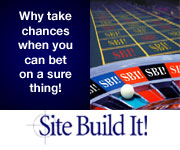 ——————————————————————————————————–
pm2a5yvndz